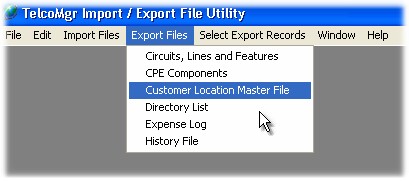 Export Features:
The above listed files can be exported from TelcoMgr as CSV, HTML or Excel files.
HTML options: end user control over page and table attributes (font,color,width, cellspacing etc.), inclusion of user header/footer HTML (for example standard navigation bars) so the look and feel of your website can be maintained, table fields can be given a URL link, data can be output to one page or multiple pages. In the latter case Next/Previous links and page numbers are placed on each page generated.
The user can define which fields are included in the export file. So for example, the user could exclude confidential data fields from being exported. These Selections can be saved for future use.
For ASCII files there are options for header record, double quotes and date format. Date fields are automatically detected by the templates.
A new field can be added at export time - so for example a field containing First Name + Middle Name + Last Name could be composed and added to the export file.
USER TIP: Export all data and you will see the information that you are looking for and the field column where it appears. Then go back into IMPEX and Search on the appropriate Column name or field description. If you are using the Search and Tag feature in the field drop down selection box shows the Field Descriptions, which are shown to the user when the mouse cursor lands on or hovers over an entry field in TelcoMgr.